A classic cult café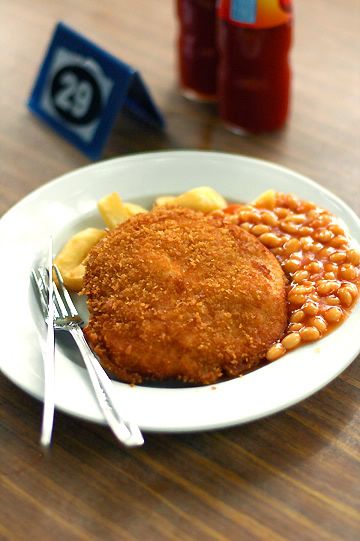 One of the most unique restaurants in Singapore is the Colbar. This 58 year old, out of the way, non-air-conditioned, and inexpensive restaurant has been a cult favorite of locals and (especially) expatriates for decades. I'll admit right away that I'm a bit of a Johnny-come-lately to the Colbar. While I've known about it for years, I've only started going there very recently--which means that I've only eaten there in its present and new location on Whitchurch Road.

For generations, the Colbar--allegedly short for "Colonial Bar"--was on Jalan Hang Jebat, a small street in a part of Singapore that once housed British soldiers. However, in a very

Hitchhiker's Guide to the Galaxy

moment, the Colbar was threatened with closure because of a planned highway extension that would overrun this sleepy street. Thankfully, Colbar regulars petitioned the powers that be and not only was a new home found for this quaint eatery, but the building that housed it was declared historically important, taken down and completely rebuilt on its new premises, just 5 minutes from its old home on Jalan Hang Jebat.
The Colbar serves both Western and Chinese food. The food's pretty basic. You won't get fancy, plated gourmet fare here. What you will get, though, is very well made versions of popular classics like chicken and pork chops (pictured at the top is an order of chicken chop with beans and chips), steak and chips, and a number of omelets. Some dishes in particular are stand-outs. I'm told the full English breakfast is excellent. My brother's girlfriend adores the ox tongue sandwich. But the dish that I, and many others, go to the Colbar for is the chicken curry.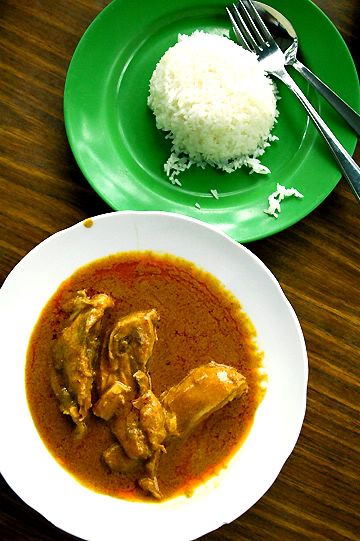 I love the chicken curry here. It's made just the way I like--extremely

lemak

(meaning, with tons of coconut milk) and very mild. Locals consider this kind of curry very Chinese, as opposed to Malay or Indian. The meat is incredibly tender. The portion, as you can see, is pretty healthy. And at just S$7, it's a real bargain. Some days, the curry even sells out by mid-afternoon.

The Colbar attracts a pretty eclectic clientale. It's very popular with expatriate families. Go for lunch on the weekend and you'll be surrounded by dozens of well-dressed foreign children digging into their food or playing at the nearby tire-swing. Its also popular with young local couples with a penchant for nostalgia. And, of course, its a pilgrimage spot for local foodies.

The space itself is pretty unique. The Colbar is located in a large field in one corner of Wessex Estate, a tree-filled, artsy, residential neighborhood. The restaurant is essentially a kitchen and a couple of rooms, none of which are air-conditioned. There's a big open area in the back with several tables and even more tables around one side and in front of the restaurant. It's a fantastic throwback to another era and a little piece of Singapore that I hope is still here and still serving great curry after another 58 years.

Colbar
9A Whitchurch Road
Wessex Estate, Singapore
Tel: 6779 4859
Open Tues-Sun, 11am-830pm