Big breakfasts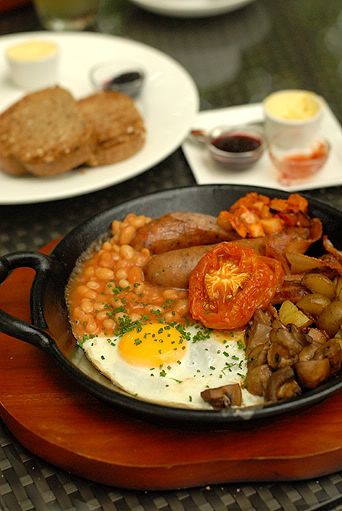 One of the things

I like most about my wife S is her love of big English breakfasts. Neither she nor I are partial to buffets -- we try as much as possible to avoid all those Sunday hotel brunches that the rest of our countrymen and women seem to adore. I personally think that they're a waste of money. You pay a lot thinking you are going to eat (and drink) a lot, but never actually do. I also hate having to fight for my food. There's inevitably some greedy fool standing in line in front of you who happily takes every last piece of whatever you have both been waiting for. I've watched grown men and women take half of an entire tray of oysters and other seafood, leaving nothing for the throng behind them. Of course, I've always wanted to grab that last piece of lobster off his or her plate and bash him or her on the head with it. S, of course, never lets me actually do it.

I like my brunches relaxed. I like ordering something reasonably priced and having it delivered to my table. Call me lazy but I'd rather spend my time chatting with S or other friends than crazily circumnavigating a buffet restaurant.

The often-maligned Graze -- which I do actually kind of like (and I'm not just saying that because they are one of this blog's sponsors) -- recently launched some new breakfast items. The first time I had brunch there I was a little let down (by both the food and the service), so I was very delighted that everything seemed to go swimmingly well on my most recent visit.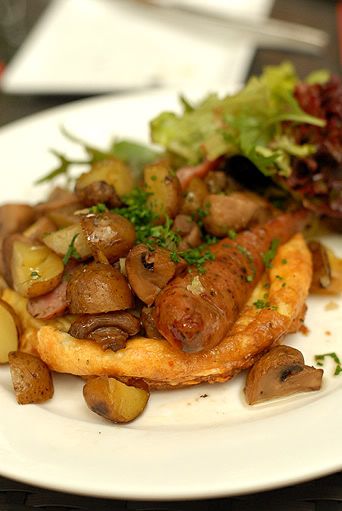 Graze, at Rochester Park, might actually be best at breakfast time. The courtyard is very pretty in the morning light and there's a wonderful, friendly feeling coming from both the other diners and staff. Many of the breakfast patrons, I'm told, are regulars who go there with their families almost every single week. S, as expected, ordered the big English fry-up (pictured at the start of the post). At Graze, it's called the Cast Iron Pan and it includes homemade bratwurst sausage, smoked bacon, mushroom, tomato, country potato, fried egg, baked beans and plum chilli salsa. A vegetarian alternative is available, but who wants to eat that? I ordered one of the newer additions to their menu, a baked omelette, which is a light puffy plain frittata stacked with a variety of delicious toppings (pictured above). I had mine with a layer of melted cheese, bratwurst sausage, mushrooms, and sauteed potatoes. Both dishes were good. Good enough to make me want to come back again. I also enjoyed the "door stopper" toast, so named because they're served in rather big chunks. The toast comes with a variety of jams and homemade honeys. I ate mine slathered with lavender honey and butter.
One of the cuter new elements to Graze's breakfast menu is their cupcakes, presented on a large plate from which you can greedily grab what you want to eat. Surprisingly, they were good. I actually expected them to be dry (I know, I should stop being pessimistic), but they were moist and the icing was fabulous. They are dense though. Which means that they are very filling. I couldn't finish mine after the omelette I had also eaten. S and I have decided that they're probably best as a stand-alone late morning or tea time snack, served with some tea or coffee.

I know that a lot of people have very mixed opinions of Graze. In the very same week, I-S gave it an amazingly fabulous review while Straits Times bashed it. I've had good and bad experiences there myself, fortunately more good than bad. My last breakfast was definitely a good one. I'm keeping my fingers crossed, hoping it stays that way.

GRAZE
No 4 Rochester Park, Singapore 139215
Tel: (65) 6775 9000
Technorati tags: Graze, Singapore restaurants, brunch